The Weekly 411 (3/10/23)
March 10, 2023 vol. 10
The Weekly 411 gathers all the links added to Kidlit411 each week. To receive this post by email, sign up for our email updates. Are you on Facebook? Join our Kidlit411 group for conversations and camaraderie. This week's illustration is by Rebecca Hirsch.
Picture Book Giveaway
We are excited to host a giveaway of the picture book, Mockingbird, Make Up Your Mind! written and illustrated by Victoria Marble (Young Dragons Press 2022). Enter to win a copy in the Rafflecopter below!
About the Book: Have you ever wondered where a mockingbird learns its many sounds? Follow along on this onomatopoeic rhyming adventure and help the mockingbird choose a favorite song.
About the Author-Illustrator: Victoria Marble is an illustrator specializing in character & narrative design, with a particular emphasis on children, animals, insects, & floral designs. Victoria's love for drawing led her to pursue a well-rounded artistic background with courses completed in a wide range of concepts and media, including drawing and composition, figure drawing, painting, illustration, multimedia, and game design. She holds a general studies associate of arts degree with an emphasis on arts & humanities, as well as an associate of science in electronic game art & design. Her artwork has won various awards. Victoria adores creating art that emphasizes the beauty of nature- and particularly birds, fish, insects, and floral designs, along with cute children and animal characters.
a Rafflecopter giveaway
We are pleased to host a giveaway of the picture book, In the Palm of My Hand, by Jennifer Raudenbush, illustrated by Isabella Conti (Running Press Kids), out on March 14. Enter to win a copy via the Rafflecopter below!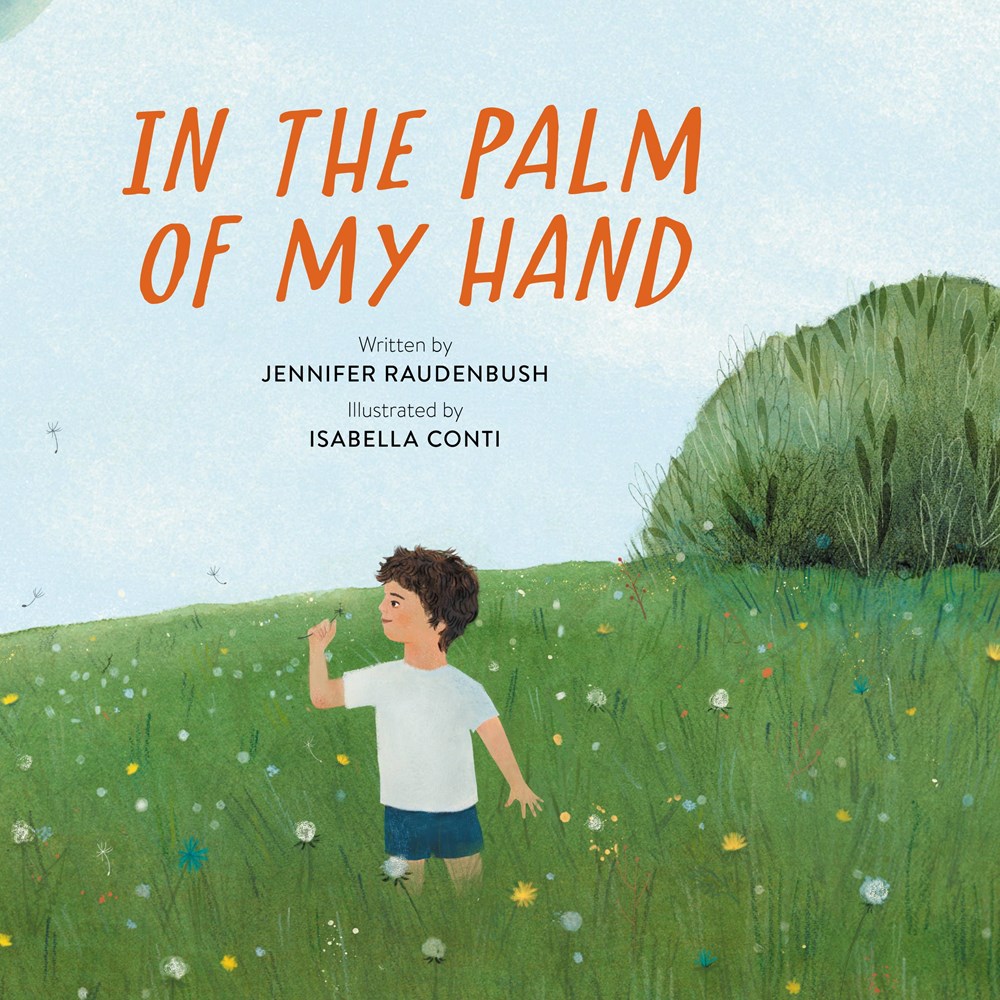 About the Book: On an ambling walk, a child discovers they hold the promise of larger worlds—forests and meadows—in the palm of their hand. An acorn becomes a tree within a woodland wonderland. A grain of sand becomes a sandcastle in a kingdom of imagination. By exploring nature's tiniest details, they learn even small things, including them, contain infinite potential.
About the Author: About the Author: Jennifer Raudenbush feels most alive when she's creating stories, especially picture books, poetry, and middle grade novels. Jen lives with her husband and teenage son in eastern Pennsylvania, where its natural beauty provides endless inspiration. She has been published in Cricket children's magazine, the 10.10 Poetry Anthology and Two Truths and a Fib Poetry Anthology. She is represented by Natascha Morris at The Tobias Literary Agency. Connect with Jen through her Linktree, HERE.
About the Illustrator: Isabella Conti was born in Milan, Italy. She is an illustrator and a visual artist. She likes to work with ink, watercolors, and a lot of love. Isabella creates illustrations for books, prints, and editorials for a variety of international clients. She currently lives and works surrounded by green hills in Italy, dreaming and drawing, singing and dancing. Connect with Isabella at www.isabellaconti.it or on Instagram @isabella_conti.
a Rafflecopter giveaway
We are excited to host a giveaway of the middle grade novel, The House Swap by Yvette Clark (Harper Collins 2023). Enter to win a copy via the Rafflecopter below!
cover art by Oriol Vidal; design by Chris Kwon and Jessie Gang
About the Book: The Parent Trap meets The Holiday in this heartwarming and funny story of two girls, one American and one British, who become friends and confidantes when their families swap houses, from the acclaimed author of Glitter Gets Everywhere. Allie is British and dreams of being a spy. Sage is an only child from sunny California. They meet when their families swap houses for the summer. Though they're polar opposites, Allie and Sage quickly realize that they're both dealing with family issues—Sage's parents may be on the brink of divorce, and Allie's struggling to feel heard in her big family. It may take a trip around the world for them to find their place at home.This sweet and emotional story is told in alternating chapters from each girl's point of view, offering two unique perspectives on family and belonging.
About the Author: A Brit by birth and a New Yorker by design, Yvette lives in Manhattan with her husband, two teenagers, and a small blue cat. Yvette is a writing mentor for Girls Write Now. Visit Yvette at www.yvetteclark.com
a Rafflecopter giveaway
We are pleased to host a giveaway of the middle grade book, It's a RHAP, Cat, written by Lee Y. Miao (Clear Fork Media, 2023). Enter to win a copy via the Rafflecopter below.
About the Book: When twelve-year-old Cat, a history nerd, sees her double in a sixteenth-century portrait by Raphael, she enters the school's Renaissance history and art (RHAP) contest with her art partner and crush that just might help her uncover puzzling family ties.
About the Author: Lee Y. Miao grew up in a small Pennsylvania town and lives in New York now with her family and a tireless dog. After working in financial jobs and writing K-12 educational material, she turned to middle-grade fiction. Her stories are about contemporary characters who discover connections to their cultures and families from the past. Lee's debut novel, Wei To Go!, a related book, was published by Clear Fork in April 2022. Please sign up for her email newsletter at her website, www.leeymiao.com, for news and announcements about her writing life.
a Rafflecopter giveaway
How to Write a Graphic Novel: 5 Major Tips for Writers
Do Not Worry About Spoilers in a Query Letter
8 Tips for Creating Tantalizing Titles
How to Craft a Picture Book Dummy
Marketing & Creating a Platform
Creating a Marketing Plan (for Nonfiction Books)
Andrew Motion: 10 Techniques to Spark the Writing